Payment gateway is the technology used for checkout procedures associated with the acceptance of debit or credit cards by merchant's purchases from customers. The concept not just includes the physical card reading devices available in brick and mortar retail stores but also the eCommerce stores with online payment portals.
Opayo is the checkout procedure that facilitates you with 3 main methods of integration to process your transaction via our system. Every method of integration enables you to have a different level of communication and control between your website and Opayo.
The 3 Methods Of Integration Are;

Opayo Form: A straightforward encrypted form submission post directly from your site to the Opayo system. The user is transferred to our hosted payment pages directly to our hosted pages to have the card details to be captured securely. This is the most fundamental checkout procedure of integration available on Opayo with your site only needing a sole post for the transaction to be done.
Opayo Server: The Opayo Server method of integration offers you more control over the transactional process rather than the form solution. The server integration still allows you to have the transactional process that is being hosted on our platform. There is a consistent channel of communication open between our platform and your site. The server method allows our vendors the choice to execute an "InFrame" into their website which drives in the Opayo payment pages for checkout procedures on the seller website.
Opayo Direct: This explanation gives you the entire control over the transactional process that includes the hosting of the card details get pages. You need to undertake the whole development work of the complete payment process including the safety and security of the details that are noticed.
Every method of integration will enable you to connect your website to our systems to process payments. If your website is using a shopping cart or has a web developer then you should speak directly with each to find the best integration that will be the best for your website.
After that, you will be able to select the method that suits best for your website and start processing financial transactions.
Frequently Asked Questions
There are different concerns of the user that we have observed. You will come across 8 most common questions asked by shoppers regarding the Opayo payment gateway, let's dive into the discussion:
1. How much time would I require to begin accepting payments in checkout procedures?

Opayo incorporates all important eCommerce platforms, merchant and shopping carts acquiring banks so you can be up and running smoothly. Normally, customers can easily go live in just an hour.
2. Can I get customer support around the clock or are there extra charges for it?
You can have the best customer support at Opayo in the sector as they offer free around-the-clock support in different ways that include Phone, Email, WebChat, and Twitter for all the days a year and we assist you to understand the entire setup.
3. Is it possible to boost sales through checkout procedures?
Yes, almost 63% of consumers are very satisfied regarding their purchase when the logo of Opayo appears on a website and they are more likely to buy from the website using Opayo for payment gateways rather than any other alternative.
4. How much time is required to receive funds from the sales?
Most of the payment gateways in the industry take your funds for almost a month but Opayo settles your amount within 3 days.
5. What payment features are available for business growth?
You can have all the tools you require to accept payment online for just 80p including free advanced fraud screening. Opayo has easily customizable checkout pages and the most popular payment types.
6. What type of fraud prevention can I have from Opayo?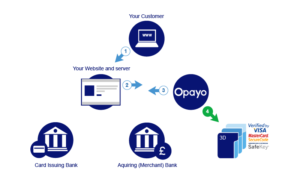 Opayo does not charge additional amounts for fraud prevention, unlike most payment gateway providers. We offer the latest fraud screening tools that can be considered to your business to facilitate least the loss to fraud. This involves:
The transactions made by shoppers go through the prime fraud prevention provider for security checks
3D Secure authentication (with Visa, MasterCard)
Synchronized AVS/CV2 checks – security and address code match
Supplementary transaction checks such as Postal Address File (PAF) checks
American Express SafeKey
Opayo will allow you to set up more fraud prevention rules at the time of sign up
If not certain regarding a transaction, you can make a call to the fraud team at any time of the day around the year for advice. They follow the highest security standards set by Visa and MasterCard.
7. What is the "real" monthly cost or hidden fees if any for checkout procedures Opayo?
The transparent pricing schedule of Opayo starts from 80p per day. There are no additional fees for set up, contract contact, no hidden fees, and no least transaction requirement. You get all the features you require to allow you business growth and cost control.
8. Is Opayo financially stable and secure?

Yes, this is true that some payment providers are in tough financial situations, both private equity owners with the concentration on fast profits or backed by funding rounds and not earning a profit. Opayo ensures the user that they would not find a day that Opayo has gone out of business. They are the only checkout procedures with over 6 million business customers worldwide and are part of FTSE 100 Elavon Financial Services DAC, the 3rd largest management software and services provider globally.
Read more: How Does The Paypal Gateway Works Magically