ECOMMERCE CONVERSION OPTIMIZATION [2020] – 10 SMART WAYS – COMPLETE GUIDE
The evolution of e-commerce business is tremendous. Even if you dive in its history, you will know that the journey of the evolvement of e-commerce business includes a number of challenges. From mail-order catalogs to being able to order something online and have it delivered to your doorstep by the next day, the journey has been quite wonderful. However now, with the advancement in modern tech, e-commerce accounts for a significant amount of retail sales. And this a pretty good news, especially for the small retailers who try to sell online. Wonder why it is an exciting news? Well, this approach with ecommerce conversion optimization is perfect for small business who want to establish a strong branding image. They can come up with attractive strategies to entice more audience. In this way, they can also compete with huge enterprises just by having a smart and easy-to-use online storefront.
With all these things, you must not forget that a company can't just throw an online store together. Along with that, you should also consider ecommerce conversion optimization. Because your entire brand's online presence needs to be designed so as to encourage consumers to buy. And for a better understanding, here are 10 smart ways that can help you maximize e-commerce conversions: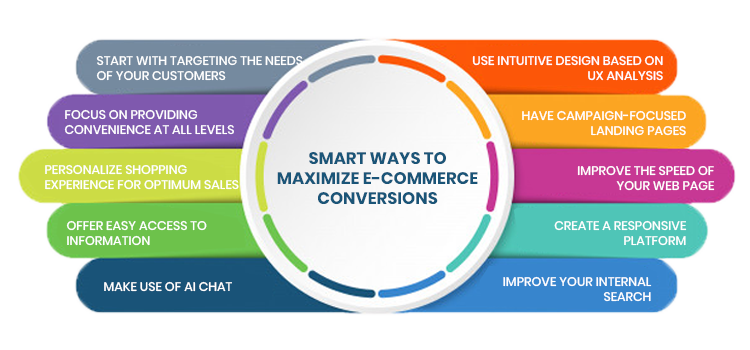 START WITH TARGETING THE NEEDS OF YOUR CUSTOMERS
As a proponent of user testing, you should identify your customer's need as it can help you with driving a strong strategy to boost your level of effort and satisfaction. And this can happen with the efficient methods of user testing. In this way, you can also explore pain points and opportunities for improvement.
FOCUS ON PROVIDING CONVENIENCE AT ALL LEVELS
You need to make sure that you provide convenience to your customers related to all ecommerce conversion optimization. This is because convenience comes on top for online shoppers. And it offers a unique digital experience to target more customers. With its continuous practice, you can even, reflect the needs of the consumer in a way that is easy to understand. In this way, you can create fully-tailored pages and directly respond to consumer queries that helps online shoppers to easily find the information they are searching for and guide them throughout the shopping experience.
We just posted how to make money on shopify be sure to read it.
PERSONALIZE SHOPPING EXPERIENCE FOR OPTIMUM SALES
With ecommerce conversion optimization, you can gather data and generate custom site analytical reports on data management platforms (DMPs). You can offer user-friendly features and utmost convenience with a personalized shopping experience.
See how we can help you with our custom shopify app development services
OFFER EASY ACCESS TO INFORMATION
To offer an enigmatic experience to your clients, it's better for you to find a simple way with which your customer can source relevant information in the ecommerce conversion optimization. In other words, the gathered information can help your clients access the e-commerce store.
MAKE USE OF AI CHAT FOR ECOMMERCE CONVERSION OPTIMIZATION
According to the veterans 14% of traffic is converted into leads due to the use of AI chat. And during this pandemic, it's easier for retailers and e-commerce store to make use of AI chat. Wonder how you can do that? Well, simply begin by reducing the amount of "noise" used in your chat. It will also allow your audience to explore around the web browser, compare and interact.
Read our recent comparison on SHOPIFY VS AMAZON: WHICH IS THE BEST E-COMMERCE PLATFORM
USE INTUITIVE DESIGN BASED ON UX ANALYSIS
With ecommerce conversion optimization, it'll become easier for the audience to efficiently use all the tools, gadgets and add-ons while surfing on an e-commerce store. This type of feasibility and features can make things easier for online shoppers. You can also determine how intuitive your design is for your end user.
HAVE CAMPAIGN-FOCUSED LANDING PAGES
For a better conversion rate, it is ideal if you find the right balance of selling and storytelling for your targeted audience. Even the successful e-commerce sites have a large product catalog and too much product knowledge that can is enough for online shoppers to gain knowledge about a specific product.
IMPROVE THE SPEED OF YOUR WEB PAGE
Online shoppers these days need a fast and convenient retailing experience. And for that, you need to focus on expanding your web page's speed. Because the improved speed of your web page will enable your customers to stay.
We just posted detail blog post on Shopify Cost and its Pricings and Plans be sure to read that.
CREATE A RESPONSIVE PLATFORM
In this smart world, 79% of smartphone users are making online purchases by using their smart devices. So if you want to maximize your conversions within the real-time, then it is ideal to create a responsive website to attract more customers.
IMPROVE YOUR INTERNAL SEARCH
A majority of visitors have no idea related to your niche selling products and that is why you should keep things in an order for ecommerce conversion optimization. For a smart and advanced website, it is important to give your clients a clear idea about your services. Also, having a well-organized internal search function, they will be able to filter results to show relevant products to them.